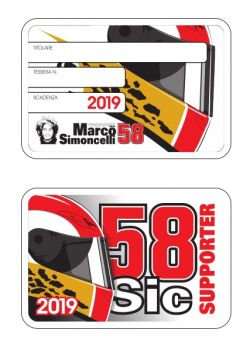 Donate and sign up now
To subscribe to the Marco Simoncelli Foundation NGO and get the card and related gadgets, you must complete the form.
The basic membership has a minimum charge of 30 Euros per year, with no obligation to renew.
Registration:
Sic Supporter Card (see the card) qualifies you as current year donor. Each year the Card theme changes and starting from year 2018, allow you to visit the Museum "La Storia del Sic" (History of Sic) in Coriano, (Rimini, Italy) Via Garibaldi 127 (RN) with a dedicated discount!
Collect all cards!
Dear supporter, if you have not received your card yet, please don't hesitate to contact us and we will solve the problem!
30€ you can receive a gadget of your choice (adjust the money amount and see gadgets you can choose from) while with donations starting from 50€ you will receive our la new T-shirt or the new comfy cap!!
See all gadgets! Typing the money amount in the below form, you will be able to choose among: See the bonnets and T-Shirt (other gadget type your amount and chose: Stickers , Folder , Pencil , Brooch , Keys , USB, Hand mirror , Magnet 7cm , Photo book , Backpack , T-shirt Sic58 kids , Cappellino , Cap 2017 New Cap 2019 )
If you have any request for t-shirt style or size, please write it in "write your message" field. At the next step after entering your membership data in the form below, you can also enter your credit card details. Should you prefer to pay via bank transfer, by checking this kind of preference in the form, you will see our IBAN bank transfer codes below. In case you choose to pay via Bank Transfer, please contact us (by email or phone) in case you pay 2 days or later after entering your membership data. Thank you!
Donate Now!
Altri modi per aiutarci
Se spesso sei libero nel week end e ti piacciono le moto, diventa volontario e vieni con noi alle fiere o ai motoraduni!

Partecipa ai nostri eventi oppure organizzane uno nella tua città o nella tua azienda.

Scegli le nostre lettere di ringraziamento per le tue ricorrenze (Matrimoni, cresime, prime comunioni, compleanni).
​Scrivi a info@marcosimoncellifondazione.it e ti daremo più informazioni.